Smart Bro Web UI allows you to change WiFi password and name for LTE Pocket WiFi, Home WiFi, and PLDT Prepaid Home WiFi at http://192.168.1.1.
How to login to Smart Bro router?
Open a browser and type 192.168.1.1 in the address bar.

Google Chrome: If prompted "Your Connection is not private", click on the ADVANCED button and select Proceed to 192.168.1.1 (unsafe).

Microsoft Edge: If promoted "The site is not secure", click on Details and select Go on to the webpage (not recommended).

Mozilla Firefox: If promoted "Warning: Potential Security Risk Ahead", click Advanced and select Accept the Risk and Continue.

Enter the Username and Password and click Log In.


| Brand Name | Username | Password |
| --- | --- | --- |
| Smart Bro Home WiFi | smartbro | smartbro |
| Smart Bro LTE Pocket WiFi | smartbro | smartbro |
| Smart Bro LTE-Advanced Pocket WiFi | smartlte | smartlte |
| PLDT Prepaid Home WiFi | pldthome | pldthome |

You will be logged in to the Smart Bro Web Dashboard UI.
If you are logging in to the Smart Bro Device Settings Dashboard for the First-Time, a popup will appear to change the default Admin Password and WiFi Password.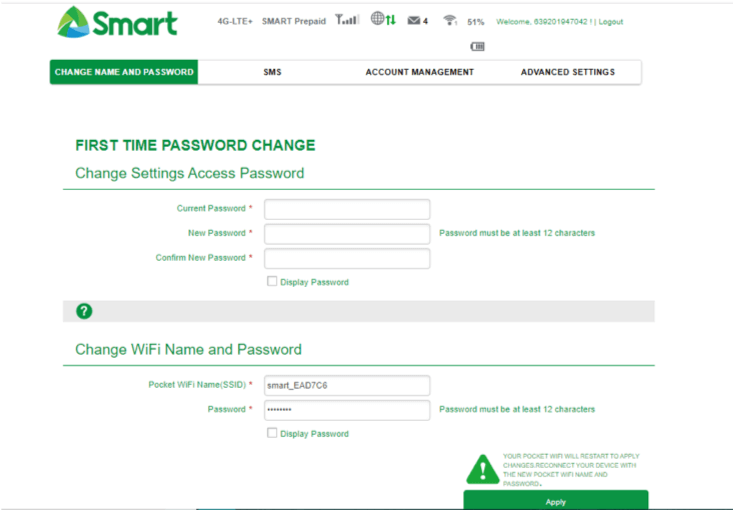 How to change Smart Bro WiFi Password and Name (SSID)?
Connect to the Smart Bro WiFi network and log in to the Smart Bro Web Dashboard.

Go to CHANGE NAME AND PASSWORD tab.

Enter your new 2.4G and 5G WiFi Name and Password.
Click SAVE to apply the changes.
How to reset Smart Bro Pocket WiFi or Home WiFi?
If you forgot your Username or Password for Admin Settings or WiFi Network, you can perform a factory reset to revert to default settings.
To perform a factory reset, look for a small RESET button inside the Sim Card slot of your Smart Bro LTE Pocket WiFi, or the RST button on the side of your Home WiFi.
Press the button for 10-15 seconds until the LEDs start blinking.
You have successfully performed a factory reset.
Now you can use the default Username and Password to log in to your modem.